Elie didn't know how he would ever afford college, but last fall he received a Thrive Ansanm scholarship that enabled him to begin his freshman year at the University of Port-au-Prince. Since he's majoring in computer science, access to a computer and the internet is a really big deal for him, so he's a regular at the Thrive Ansanm Resource Center in Carrefour, Haiti.
A couple of weeks ago, I was talking to Elie at the resource center, and I asked him if he was familiar with the upcoming Haiti Tech Summit. If you follow the news about Haiti at all, you know that most of the headlines are about political instability, government corruption, and protests, but there are good things happening in Haiti, too, and the Haiti Tech Summit is one of them. According to their website, Haiti Tech Summit "brings together thousands of entrepreneurs, investors, celebrities, and creatives under one roof together to address humanity's greatest challenges via tech and entrepreneurship." Their guests include Twitter CEO Jack Dorsey, Haitian president Jovenel Moise, Haitian artists, and representatives from companies such as Google and LinkedIn.
Elie hadn't heard about the Haiti Tech Summit, but he immediately resonated with the vision and said he would love to go. I explained to him that you have to pre-register and it's expensive to get in, but you can follow it on social media and YouTube. Little did I know that this would not stop Elie.
A few of days ago, Elie came excitedly into the office at the resource center, and explained to me that he went to the Haiti Tech Summit.
"Really?" I asked. "How did you get in?"
As it turns out Elie had gone to the website and tried to register online, but when he saw the cost he stopped because he didn't have the money. Most people would've quit right then and there but not Elie. He looked up the address of the resort that hosts the Summit, and then he proceeded to take 4 public transit vehicles (called tap-taps) passing through downtown Port- Au-Prince to get there. Taking multiple tap-taps through Port-Au-Prince is quite an endeavor in itself because they are always hot and overcrowded and there is sure to be a lot of traffic on the road, but on this day it was especially dangerous because there were protests all over the city. Fortunately, he made it safely to the hotel, but as you might expect, he was turned away.
Hoping that somehow, some way, he could talk to someone who could get him in the door, he waited for 4 hours outside the hotel. He was so resolute that he was planning to sleep on the street in front of the hotel that night, but then he happened to meet a colorful social media personality known as Captain Haiti. He was inspired by Elie's determination, so he took to Instagram and posted a video tagging Elie, the Haiti Tech Summit, and Haiti Tech Summit founder Christine Ntim, pleading with them to let Elie get into the Summit.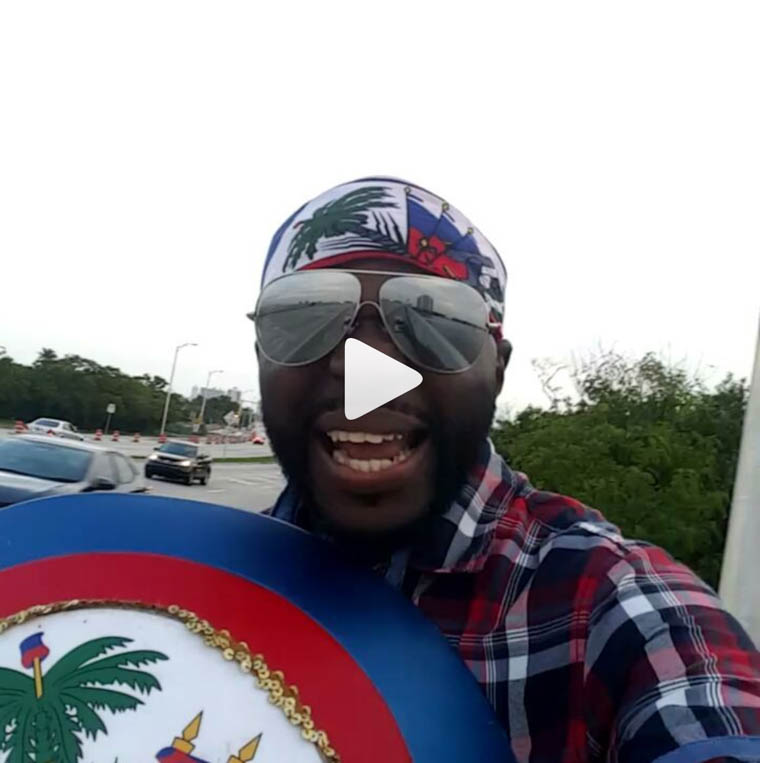 Thanks to the kind people at Haiti Tech Summit this plea did not fall on deaf ears. They let Elie in, showed him around, and Christine Ntim took the time to personally talk to him. Knowing that it would be dangerous for him to travel home late at night, they put him up to the hotel that night and he was able to get to know several people at the Summit.
Elie told me, "There were so many white people, and I was the only one without a bracelet!" He must have felt completely out of his element, but he had the courage to step out of his comfort zone, and he ended up walking away with an experience that he will remember for the rest of his life.
Last summer, Elie was sitting at home wondering what his future would be like.
He never could've imagined that within a year he would be studying at the University of Port-au-Prince and rubbing shoulders with celebrities at the Haiti Tech Summit.
The truth is that none of this would've happened if Elie had sat at home and given up, nor would any of it have happened without the generous support of Thrive Ansanm donors. When you support a Thrive Ansanm student you're not giving a handout. Instead, you're partnering with hard-working students like Elie to help provide them incredible opportunities to build a better life for themselves and give back to their communities.